Greetings!

After our morning walk in the wind and rain, I was very cold and 'bedraggled' and Maise was one soggy doggy! However, a rub down with warm towels from the airing cupboard for Maisie, followed by a delicious bowl of hot porridge for me, soon sorted us both out :)

I have 35 Ebay orders and 44 Amazon orders to make and dispatch as soon as possible... I wonder how many I can get done before I have to head off to the post office 4:45pm? Will I have more delays caused by the continuing Smartstamp fiasco and problems with online postage?

This Mercury Retro period has been very 'trying' for me and lots of small businesses - not to mention the Royal Mail...

I'd better get cracking, so here are the cards and affirmations for Thurday!

Whatever your star sign - have a good day :)

Brightest Blessings,
Kaz
www.blessingz.co.uk
www.cheekywitch.co.uk



This week I am using the
Angels of Light Cards

by Diana Cooper

Quoted from the pack: "Angels are high spiritual beings. They come from the heart of God as guides, protectors, helpers and healers. Angels are willing and able to help us in many ways throughout our lives, all we need to do is call on them and they will respond. Allow these cards to help you bring them into your life.
Diana Cooper, best selling author of 'A Little Light on Angels', 'A Little Light on Ascension' and 'A Little Light on the Spiritual Laws' has created this beautiful new set of cards. This pack contains 52 cards, a 48 page booklet and a velvet bag which will allow you to carry the cards wherever you go."
(These cards do not have different illustrations just the beautiful image below on the back and all text on the front.)




My personal card for today

: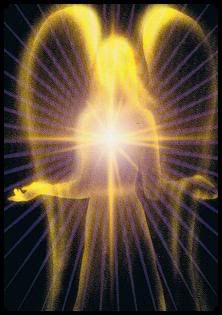 ACKNOWLEDGEMENT
Full meaning: Look after yourself by acknowledging your desires and needs and taking steps to meet them. Examine and note your gifts, talents and achievements.
When you accept all aspects of yourself, you feel centred and confident. Then you can genuinely acknowledge others.
Become aware of and nurture the good qualities of the people in your life so that they feel relaxed and happy in your presence.
Angel wisdom reminds you to recognise who you truly are - an evolved spirit in a human body. When you acknowledge your spiritual dimensions, you will align with your true self and your spirit will soar.
Affirmation: I acknowledge who I truly am.
Today's cards for each of the star signs

:

Due to lack of time, etc. These are the 'quick reading' messages - for the full reading and meaning of the cards you will need to obtain these cards for yourself - or get someone else to buy them for you as a gift! (The link below is to the new 'revised' edition of these cards - I am using the older version - I believe it is only the images which are different...)

Here are your messages and insights for today. Try to sit quietly for a few moments, meditate on your card and think about how you can learn from, and act upon, its message...

Aries

: KINDNESS

Quick message: In order to be kind you must open your heart to the gentle qualities of caring and compassion. Be kind to yourself. have reasonable expectations and give yourself due praise. In order to nurture the gentle quality of kindness, cherish yourself. When you do something for yourself you automatically extend that same energy to others. Kindness melts the barriers of ice around people and re-empowers those who are afraid. So reach out to the lonely, draw out the shy, include those who feel isolated and comfort the sad.

Affirmation: I am kind to myself and others.

Taurus

: ABUNDANCE

Quick message: It is time for your life to flow with prosperity, love and success. You draw from the limitless universal pool according to your belief in how much you deserve. Angel wisdom is reminding you now to believe in yourself and trust that you deserve more. Then you will attract abundance and the true riches of life. Enhance your prosperity by receiving graciously, giving out willingly and saying thank-you for everything. Enjoy all you have and more will come to you.

Affirmation: I deserve love, prosperity and abundance.

Gemini

: SERENITY

Quick message: Serenity bestows inner peace, tranquillity and calmness of mind. When you feel serene, you are your own person, for nothing and no one can bother, upset or influence you. You are like a calm, clear lake - beautiful and peaceful to be with. Your radiance brings hope and support to those who come within your aura. You attract respect and love from others, for all are calmed by you. Quietly ask your angel to hold you in serenity.

Affirmation: I am serene and still.
Cancer

: ADVENTURE

Quick message: Life is an adventure. Be ready for the unexpected and make the most of all opportunities. The angel wisdom suggests you get out of any habits or ruts in which you are stuck. Do things which are different and face life with a sense of wonder. The angels are inspiring you to move forward with anticipation, expectancy and hope.

Affirmation: I face the adventure of life eagerly.

Leo

: WISDOM

Quick message: Knowledge is learned, but wisdom is the divine prompting within you. Your angel guidance is to connect to your still, quiet centre and listen to the wisdom of your soul. Then you will take decisions and act from your own infinite self. With wisdom life takes on a new perspective, as dramas and fears become insignificant in comparison with the magnificence of the overall picture.

Affirmation: I listen to my wisdom.

Virgo

: ARCHANGEL URIEL

Quick message: Archangel Uriel works on the ruby ray which is made up of purple and gold. It is the ray of wisdom and spirituality. You are blessed to attract this angel card, for he will bring you serenity, love, tranquillity and peace. You, in your turn, are invited to spread these beautiful qualities to others. Connecting with Archangel Uriel will enable you to aspire to oneness with all humanity. This is high state of grace which will bring you freedom and joy.

Affirmation: I am one with everyone in peace and serenity.
Libra

: HONESTY

Quick message: Angel wisdom reminds you that your every thought, word, emotion and action is reflected in your aura. When you are honest, your aura is crystal clear. Everyone knows where they are with you and feels totally safe. When you are totally honest with yourself, you behave with integrity and dare to be open, for there is nothing to hide. people respect and trust you. As you radiate a resonance of honesty, people respond to you with openness and honesty in their turn.

Affirmation: I am honest in thought, word and deed.

Scorpio

: CURIOSITY

Quick message: See life through the curious eyes of a child and you will discover a never-ending source of happiness and excitement. Curiosity keeps you alive, interested and interesting. The angels are inviting you to be curious about yourself. Start exploring who you are and you will grow personally and spiritually. Be interested in people. Be curious about the wonderful Universe in which you live, about the angels and their role in the divine plan.

Affirmation: I explore the wonder of life.

Sagittarius

: CLARITY

Quick message: Angel wisdom reminds you that a busy cluttered mind is a sick one and a clear mind is a divine one. Allow the wisdom in your heart to radiate out and dissolve the chatter of your mind. Know that your angel has drawn this to your attention and is waiting to help you in your task. You will soon see things differently and be able to make decisions from strength and clarity.

Affirmation: My mind is quiet, still and clear.
Capricorn

: GRATITUDE

Quick message: Your guidance is to count your blessings. When you say thank-you to the Universe for its gifts, it responds generously to you. Angel wisdom reminds you to say thank-you for all that you have, the intangible as well as the tangible. Whenever you say thank-you from your heart, more is bestowed on you, for gratitude is the key to opening the doors to universal abundance.

Affirmation: I am grateful for everything in my life.

Aquarius

: LIGHT

Quick message: Light illuminates darkness and gloom, bringing hope and inspiration. Ask the angels to fill you with more light, for it contains spiritual information and knowledge. These are the keys to the Universe and bring love and peace, as well as unlocking the wisdom within you. As your light becomes stronger and clearer, you will find clarity and purpose. Angel wisdom suggests you ask the angels to ignite and strengthen the Divine flame within you.

Affirmation: I am a light.

Pisces

: SURRENDER

Quick message: Whatever you resist in life persists. Ask your angels to help you dissolve all the resistances of your ego (the inner conflict and struggle, the rigid mind sets and habits) so that they can flood your life with higher truth and joy. When you surrender to the guidance of your Higher Self, all the energy you have been using in resistance becomes available to you. Vitality, inner peace, harmony and, most of all, love, are you spiritual rewards.

Affirmation: I surrender to the flow of life.